Doctors & Staff
Meet the experienced and friendly doctors and staff who make Southlake Optometry Group the leading provider of vision care products and services in Hoover.
Tracey L. Mercer, OD
Dr. Tracey Mercer is a native of Demopolis, Alabama. She received her BS degree from the University of South Alabama in 1995. Since her graduation from UAB Optometry School in 1999, she has been in private practice optometry in North Shelby County.Dr. Mercer opened her own office in January 2015 in the Hoover area. She enjoys seeing patients from infancy to seniors. Dr. Mercer is a member of the American Optometric Association and the Alabama Optometric Association.
When she is not at work, Dr. Mercer enjoys spending time with her husband Robert and two children. She is active in her church at Asbury United Methodist as well as supporting the schools and their activities.

Women of Hoover Dr. Tracey Mercer from Tracey Mercer on Vimeo.
---
Haley Aubrey, OD
Dr. Haley Aubrey grew up in the Birmingham area. She attended the University of Alabama and graduated in 2008 with a B.S. in Biology. It was a volunteer trip to Ghana with a group called Unite for Sight that helped solidify her decision to become an optometrist. She graduated from UAB School of Optometry in 2013. After graduation she worked in a pediatric practice for several years. Dr. Aubrey enjoys seeing patients of all ages, but especially enjoys seeing children.
---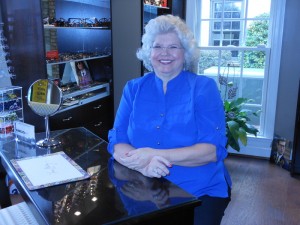 Susie Bowden, ABOC
We are very excited to have on our team Mrs. Susie Bowden. She comes to us with over 30 years of optical experience in the Birmingham area. Many may know her from working with Dr. Thomas Metz or Alabama Ophthalmology. She is honest in her selection of frames and truly gifted at troubleshooting optical problems. Come in and meet Susie today. You will be glad you did!
---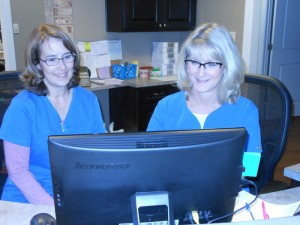 Sherri Jo and Connie
You will know this office is different from the moment you walk through the door. The smiling faces that greet you and the relaxed atmosphere are a welcome change to the sterility found in most offices. Our office staff is committed to putting patient care first. From assisting patients in finding convenient appointment times and explaining their insurance benefits, Sherri Jo and Connie have patient care as a priority and it shows. We look forward to serving you here.